Senior Bone Jara, a well respected and the most branded senior artist in the North East Region Music Industry, has emerged the biggest winner in the 2nd edition of the North East Music Awards' 2020.
Bone Jara with his flagship brand and consistent hard work under the year picked up the 'Male Vocalist Of The Year' award with his smash hit single 'Old Soldier' and the highly respected and prestigious award of the scheme 'Artist Of The Year' at the ceremony held at the Assembly Hall, on Saturday, March 13th, 2021.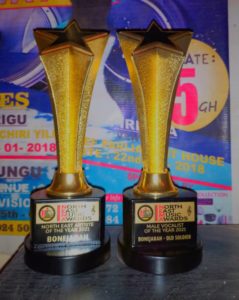 Bone Jara is excited about these awards as it comes to confirm the success story of him, fans and above all his team in the year under review.
The star first thank the Almighty God for bringing him this far and couldn't forget the memory that he was at the awards night last year 2020 without even been nominated in a single category, an inspiration that awake him from his slumber to work harder to where he is today.
Bone Jara called on other artists to work harder for they all can achieve greater grace with their talent with hard work.
Meanwhile his song, "Waa" music video is going viral, stream below,