Dasuma Radio Soccer Clan Soccer Tournament is an annual soccer games organized by Dasuma Radio to promote and project peace among ethnics groups and tribes in Dagbon.
The initiative started four (4) years ago in Yendi, in the Eastern Corridor.
This brings together tribes from different places to participate and compete for the ultimate trophy.
In a short conversation with the Chief Executive Officer (CEO) of Dasuma Radio, organizers of this beautiful initiative, Alhaji Osman Baba Daney said the initiative is a part of their social responsibility as a radio station in the Yendi Community to promote peace and unity.
"Yendi and its environments has been tagged as a non peaceful community because it's the capital state of Dagbon where the head chiefs of the Dagbon Kingdom lives, and it has always been tribal fights since day one, so been a media firm with a big voice, we thought organizing friendly games such us these tournament among the clan groups will promote peace among them as they meet and socialize" he said.
He added that, they have achieved their target for the passed three years and the numbers this 4th edition gathered says it all.
The 4th edition saw two groups consisting of four (4) clans each played against each other to the final.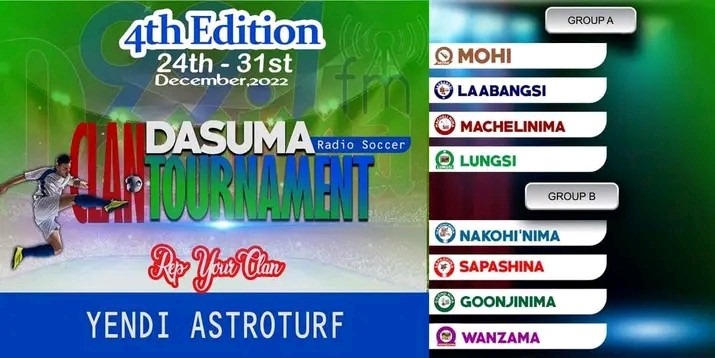 The seven days tournament which kicked started on the 24th of December was climaxed yesterday, December 31st at the Yendi Astroturf. The final saw Moshi's defeated 2nd place Lungsi, and Nakoha-Nima placed 3rd ahead of 4th place Wanzama.