Adam Mustapha, a veteran journalist from the north, has resigned from Neesim Fm, a Tamale-based station, for the second time.
On Thursday, June 11th, 2021, Afa Staff, as he's become known, completed his second contract with the station. Though he didn't announce it on social media, he changed the name of his Whatsapp group from "Neesim Drive With Afa Staff" to "Events And Trends," prompting followers to wonder why, and he openly stated that he had resigned from the station.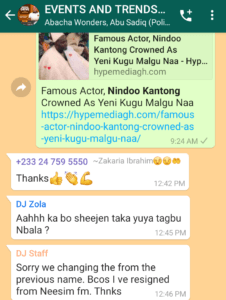 Afa Staff confirmed his resignation in a one-on-one conversation with him, but expressed concern that he would soon announce his new location to his loyalists. On June 29th, 2020, Afa Staff joined Neesim FM as their drive time host, and as such, he has made the Neesim Drive one of the most popular and greatest in town.
He also started a unique program called "Tigbib Taba," which has brought a lot of positive change to Tamale and helped victims resolve disagreements, such as the one between DJ Parara and his former manager, DJ Yamoo.