Reports reaching HYPE MEDIA GH states that one of Northern Ghana most finest Director, Director Anas secretly held a naming ceremony back at his hometown, Walewale without the awareness of anyone including his workers and boys.
The Director took to his facebook timeline to post,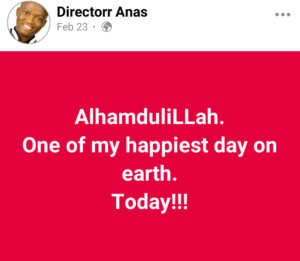 The research team of HYPE MEDIA GH did follow up and it was confirmed that his wedded wife, Mrs Mukarama Anas has given birth to a baby boy.
The couple wedded in April last year.
Many celebrities including artists, actors and industry players have been asking and awaiting the day of the naming ceremony to go and celebrate with their supportive best Director.
Confirmed information says the Director held the naming ceremony inside Walewale without himself present.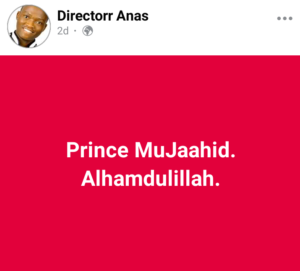 It says he made the necessary arrangements and the ceremony was held on Tuesday, March 2nd whiles he himself was inside Tamale.
The child was named "Mujahid", Musician, Fancy Gadam biological name.
It's yet to be disclose why he chooses to do it secretly.