Amidu Abdu Rahim has urged Don Dee not to perform at the Maccasio's throne concert unless he is paid.
Before Maccasio unveiled the guest artists for the Throne Concert, Don Dee made a controversial post on his wall saying that he saw no reason why Maccasio would not bill him for the show.
Fans chanted in support of him because of his current flair in the industry.
https://youtu.be/8fow1j5rS0c
Maccasio unveiled the guest artists on Wednesday the 28th of July without Don Dee. Fans went crazy over Maccasio's decision to ignore the plead.
On the first day of August, Maccasio released individual performing artists' covers and Don Dee was featured. Fans were happy and even made it the most shared and liked cover on the Maccasio Wall.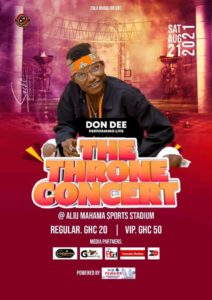 Dj Bat took to his timeline to condemn this and call it a favour from Maccasio.
According to DJ Bat, Don Dee is the current best rapper in the whole of Dagbon and above that has one of the biggest songs, "Life Be Time".
He advised the starlet not to perform unless, of course, paid.