Rastony, one of the northern-based rappers, has sent a severe warning to blogger Is Hassan Dablee to never step a foot into his (Rastony's) hometown, Savelugu, or else he, together with his guys, will give him, the blogger, a life-time beating.
This came after Is Hassan Dablee made a very controversial post about the star who has long been heard in the industry. In the post, Is Hassan posted weed and an emoji of "stop it" with a hash tag of "HYPE MEDIA GH." Read post below.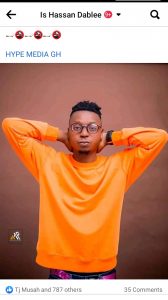 This didn't go well with Rastony because he came under the comment box and dirty Hassan Dablee and his parents with insults.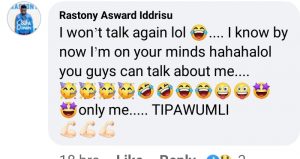 This morning, Is Hassan made a post about how Rastony contacted him to warn him against ever coming to Savelugu.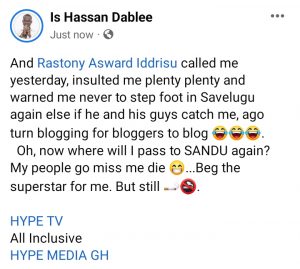 In a chit-chat with him, he said yes, the update is not for jokes. Rastony actually called him, they exchanged insults, and the star dared him never to step a foot in Savelugu again, else he would receive a life-time beating from him and his guys. "When I tried to explain my update to him, he told me he didn't need my hype; he rants and threatens me and hangs up, but that's all part of the industry," Hassan Dablee said.