One of the renowned vocalist from the northern part of Ghana, Gonga has joined the Shatta Wale and Aisha Modi beef. The Northern Music headmaster as he's popularly known took to his facebook page to lambast Aisha Mod in a video and warned her to stay very far away from Shatta Wale.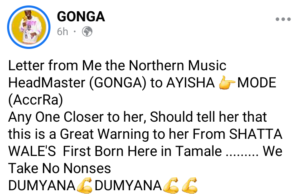 Shatta Wale and the strong and famous Bhim Nation Queen, Aisha Modi have recently been throwing jabs at one another.
It all started when Aisha Modi accused Shatta Wale of having a threesome with his baby Mama, Michy and Hajia4Real.
Shatta Wale didn't take it lightly and jabs Aisha on a live video on facebook.
Joining the beef as claimed Shatta Wale son from the North, Gonga highlights that Shatta Wake is his father and whoever dares the Dancehall King dares him (Gonga).
Below is a video,