Halik Musah, one of the loud radio/TV personalities from the North, has vowed that he brought the idea of the dismantlement of "Front Page Entertainment," one of the region's most successful event organizing/artistes managing companies, owned by Ghanaian midfielder, Mubarak Wakaso.
Front Page Entertainment was a household name in the region and has helped lots of artists, including Fancy Gadam, Don Sigli, S.K.Y, Gonga, etc, flourish in their careers. It also for the first time brought WizKid to Tamale.
In an entertainment discussion with Alhaji Sadick Cybha and Afa Staff on the North Arts Show on Sagani TV, Mr. Tell recalls that he formed Front Page Entertainment and asked for its closure because the artists, at that point, were less appreciative of the support they were given.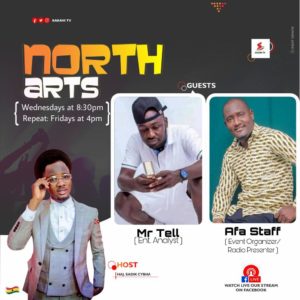 According to him, there came a time when they wanted to make it a full record label, but the artists it had supported for years without a single benefit were now asking for how much they would be paid before doing the signing. Mr. Tell called for its closure because of that. Watch the video below.