King Zee, one of the Eastern Corridor based Northern Ghanaian stars, has caused heavy traffic on most of the major roads inside Yendi during the floating for his "Zambarima Concert" inside the Yendi Community center.
After rising to fame after a continuous year of sleepless nights of hard work and dropping hit songs, King Zee and his team responded to the public demand by organizing their first ever concert inside Yendi after the deadly pandemic, COVID-19.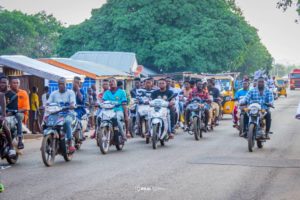 Before the night of the concert, a float was organized along the major roads of the Yendi township. Fans from different angles, like Bimbila, ZabZugu, Mion, and others, stormed Yendi by 2pm in the afternoon, and the floating started at 4pm.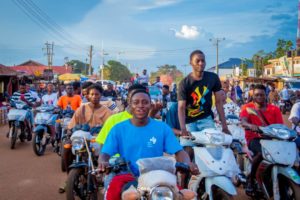 Thousands rode roughly on the road in their t-shirt colours of King Zee, and a great love was shown to the star of the Eastern Corridor entertainment industry.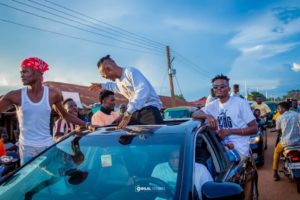 Major roads were overcrowded due to the pressure of the crazy numbers that showed up. Watch Some Short Videos From The Program Below.