Don Dee, the season 3 champion of Sagani TV's Chop Da Mic reality show, has revealed that his primary competitor, Seke Jey, assisted him in winning the competition. After the competition, Don Dee, T.I.P, and Seke Jey were announced as the first, first runner up, and second runner up, respectively. Despite the fact that Don Dee was the fans' favorite throughout the competition, Seke Jey won Best Performer Of The Week twice in a row during the final weeks.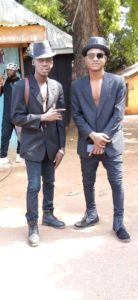 Don Dee was awakened from his nap when he realized that if he didn't put in more effort, Seke Jey would likely adopt skills on the day of the finals and win the competition.  Don Dee says this motivated him to work harder the following week to earn performer of the week and repeat the feat in the finals.
On Saturday, July 31st, 2021, Don Dee exposes this in a one-on-one conversation with Is Hassan Dablee on HYPE TV.
Below is a video of the interview.