Choggu Boys, a well-known music duo from the north, have canceled their annual street festival, dubbed 'Choggu Boys Fire Fest.' The goal of this carnival is to use entertainment to educate and promote Dagbon culture. As a result, many activities are frequently scheduled before and during the carnival. Educationists in the sphere of culture are frequently called to speak to groups of chiefs and youth about the Dagbonship.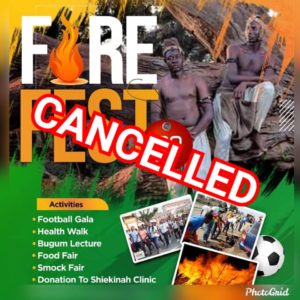 The duo released the above cover art for the program this year, and while promotions and hype were going on with fans eagerly anticipating it, they broke the news on the internet that the show had been cancelled. In a conversation with HYPE MEDIA GH, Black Echo, the group's leader, said that the carnival was canceled due to Maccasio's event (The Throne Concert). According to him, their program would fall on the same date as Maccasio's program according to their calculations, and they are not known to be backstabbers.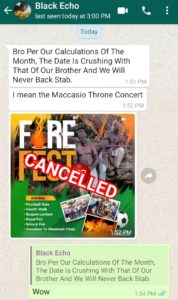 Many can recollect being in a similar circumstance with Fancy Gadam three years ago, but they all continued with their shows.