His Roya highness, Naa Yab Kugu-Naa Abdulai, Chief of Kugu, successfully crowned famous comedy actor Mohammed Abdul Wahab, also known as Nindoo Kantong, as Yeni Kugu Malgu Naa.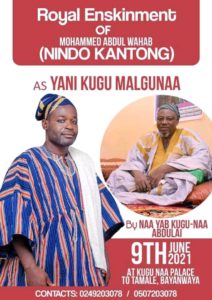 Many experienced actors and actresses, as well as friends and relatives, attended the enskinment to celebrate with Nindoo Kantong.
Yesterday, June 9th, 2021, this program of enskinment was organized within Kugu Naa's palace in Tamale. Through his Facebook page, Nindoo Kantong conveyed his deep gratitude to Almighty Allah and his family that graced the occasion.