Just five (5) days after they got married, Fancy Gadam's wife, Mustapha Jamila, seems to already be feeling insecure in her marriage to the superstar.
The news of Fancy Gadam's engagement broke the internet a few days ago when HYPE MEDIA GH published an article about it, which got many shocked because they least expected Fancy Gadam to take that bold step now.
Just five days into married life, Jamila, Fancy Gadam's wife, sent an insecure message to her husband while he was in Accra on a journey for a music video shoot.
A message is read below.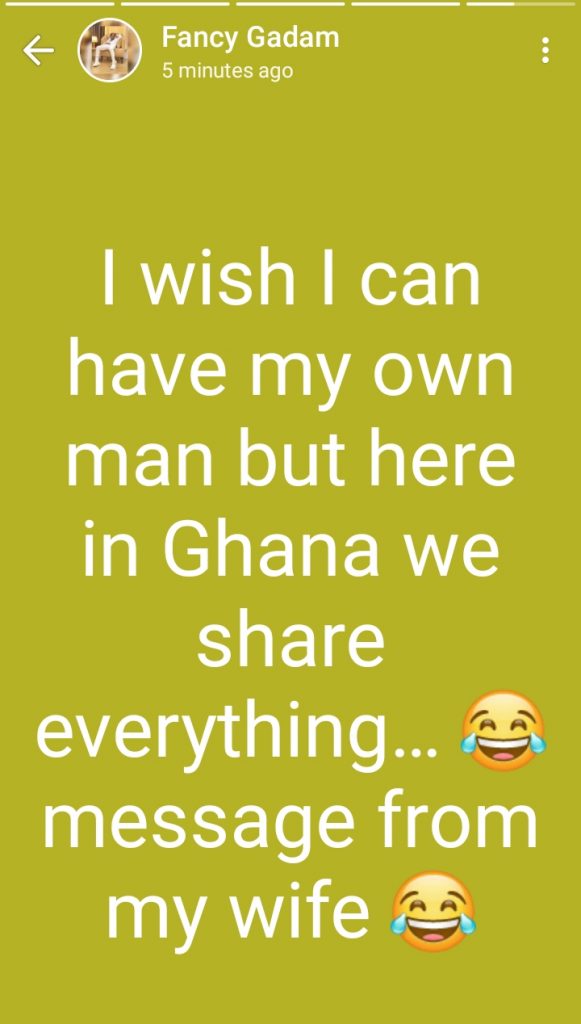 Fancy Gadam, who is currently in the nation's capital, Accra for a music video shoot and a reported recording session with Mona 4Real, posted a video of himself with Mona 4Real and was heard saying, "It's 5:03am and we are still in the studio."
Watching this on her husband's status at that odd time (5am) with a lady, Jamila quickly sent the text above, which literally was an insecure message from her to Fancy Gadam, indicating how unsafe she was trying to have Fancy Gadam to her only self.
Meanwhile, Fancy Gadam took to his next post on his status to give her hope and promised that no woman would share him with his wife, Jamila. Read below.