Organizers of the Happy Man Bitters Upper East Music Awards (UEMA) have introduced two new categories to its awards scheme.
This, according to the organizers, forms part of efforts to make the scheme more responsive to the industry.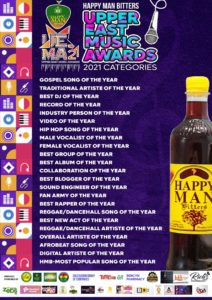 NEW CATEGORIES
Afrobeats song of the year, It was created to celebrate the artistry of Afrobeat musicians.
The Afrobeats song was adjudged by the Academy and the General Public as having the highest audience appeal and popularity in the Afrobeats genre. The artist might have released the song within the year under review.
https://youtu.be/o8r0zDzwAVs
The Digital artist of the year is also meant to award artists that have made strives, especially during this video erratic.