Ataaka, one of Northern Ghana's most popular MCs, has shared a cover of Sister Afia, indicating that the multi-platinum artist will perform live at his Kings Street Carnival on August 21st.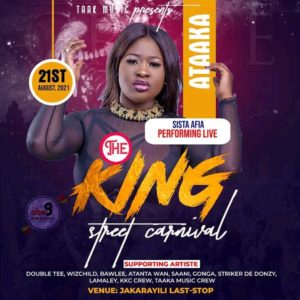 Because it competes with Maccasio's Throne Concert at the Aliu Mahama Sports Stadium on the same day, the carnival has sparked a lot of controversy in business. Many have urged Ataaka to cancel the event because it is a street carnival that could negatively impact Maccasio's own.  Ataaka ignored those calls and continued to promote his carnival.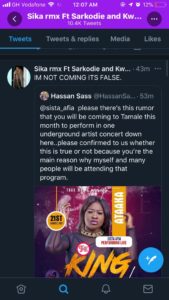 On the 11th of August, Ataaka announced on his social media accounts that Sister Afia would be performing live from Accra at his carnival, but Sister Afia quickly discredited the lie and advised followers to disregard it.
This happened when a slew of admirers bombarded her with tags and mentions, questioning whether she would actually perform. Sister Afia occasionally denies it.