Mr lover Ep by Nketia is a project that contain 5 songs that take audiences through a love journey with ups and downs.

'Mr lover' was produced by 2shuus. The beat is a mix of Ghana Highlife and Drill and having Sirge verse was the bridge between Highlife and Drill.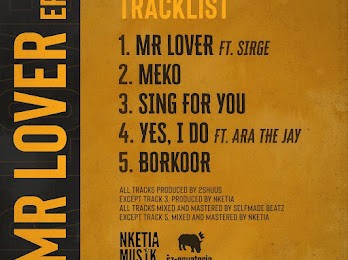 Mr lover, shows the young and wild love of Nketia to ladies and parties, the song featured Sirge who is an Afro pop artist, Sirge who is well known for his eccentric style.
Meko explains Nketia's relationship's frustration on a convas using his vocals after which Nketia see the sun.

Sing for you" is a new beginning for Nketia He shows us that love can make you go extra mile to make your partner happy. The song was produced by Nketia.
Yes I Do, we all get witness the beauty of love,the moment the whole world is seeing a bachelor a player, and lover moving to become a king to his queen
Nketia has one of his friend and artist Arthejay to support his life decisions.

Finally, Borkoor is the reward letting go your ladies and sticking with your love, Nketia goes into details of what it's like to spend the night with a goddess.
Stream the Ep via the link below
https://linktr.ee/NketiaMusik?utm_source=linktree_profile_share&ltsid=11c5ee82-d94b-4117-b0a7-e4ae3cf497c3