CEO and managing Director of Wildup Entertainment, a record label based in the Upper East Region, Pe Bu, has slammed event organizers in the region for always demanding artists to perform for free at their events.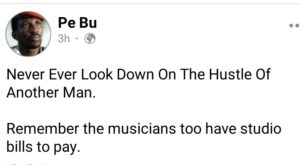 According to him, event organizers based in his sector, the Upper East Region, have always been asking for artists' names in their events for no fee, even when these organizers are making a profit from these events.
In a series of posts on Facebook, the artist manager has outlined a number of things the artists need to cater to, citing the likes of studio bills, transportation, and others.
Check out some of his posts below.