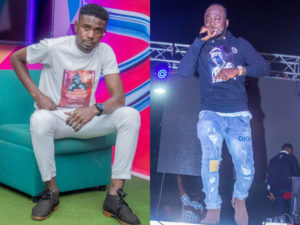 The Zaa Radio On air Presenter, Amidu Abdul Rahim known as Dj Bat has Describe Mr Tell as the poorest MC at this moment.
DJ Bat who's tagged as a controversial presenter and a pundit did not really justify he's comment as to the reason he referred to Mr Tell as the poorest MC at the moment, but Mr Tell was the main MC for the Throne Concert hosted by Maccasio on the 21st August 2021, in the Aliu Mahama Sports Stadium, and this concert happens to be the latest program the Radio Tamale on air presenter Mr Tell represented as an MC.
DJ Bat make these accusation using his Facebook timeline and he posted "The poorest MC of our time 😆😆😆😆Rate your man by his performance at the throne concert,,._" and he attached the cover photo of Mr Tell as the MC for the Throne Concert and further in the post ask his followers to rate Mr Tell performance at the Throne Concert.