Ahmed Mujahid Bello, a notorious icon known in the showbiz industry as Fancy Gadam, had yet again got the nation talking about the incredible love and adoration he got anytime he storms anywhere.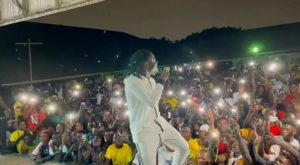 Over the weekend, on Saturday 21st of August, the star took his entourage all the way from the North to the Accra Art Center, inside the Nation's Capital, Accra, for his 'Kom Concert'.  Despite the low publicity of the event, the Accra Art Center was fully parked and some had to go back home and monitor online even before Fancy Gadam arrived at the venue.
For an artist of Fancy Gadam's caliber, who has all his songs been hits, the crowd sang word to word with every single song the star performed. Watch the Video Below.