The super talented promising youngster, Don Dee was successfully welcomed by countless thousands of people in his hometown, ZabZugu.
After successfully emerged winner of Sagani Tv Chop Da Mic and became a car owner, the rapper and his team put up a welcome home carnival for Don Dee in ZabZugu, just to thank fans for voting and supporting him massively throughout the program and above all to show them the car he won.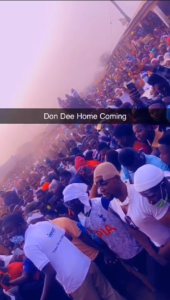 The event gathered an overwhelming amazing crowed of residents from all walks of life from the kids, youth and the elderly amidst brass band music, massive spinners behind huge trucks and well covid-19 protocols taken.   Upon his arrival, Don Dee headed straight to the King's palace for presentation of the car to the Chief and received endorsement and blessings from him.
The youngster also mounted stage to perform a few of his songs to the teeming fans and broke down in tears for seeing how crowded every corner of the city was.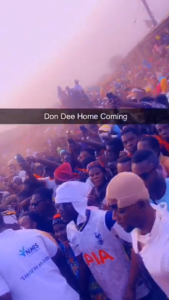 The numbers he gathered was a cause of a heavy traffic in every corner of the village.
The star announced and assures the people of ZabZugu to always make them proud as he disclose that mind-blowing projects are coming pretty shortly from him.  Watch Video Below,