Honourable Sule Salifu, newly elected mayor of the Tamale Metropolitan Assembly, has made an assurance that, in this his time in office as the Metropolitan Chief Executive, he's going to work hand in hand with the traditional leaders (chiefs), Islamic leaders (Imams), and the assembly members of each constituency under his care. Honourable Sule Salifu was confirmed into office as the successor of his close friend, Iddrisu Musah Superior.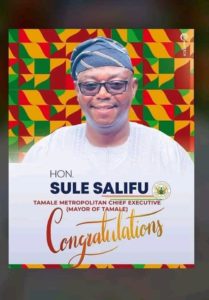 According to him, he is not going to take any decisions by himself just because His Excellency President Akufo-Addo gave him the power as the Metropolitan Chief Executive. He's rather going to include and consult the leaders to guide him in his decision making because it's the ideas and decisions of these leaders that have kept the city of Tamale peaceful to this far, so he believes their consultance and inclusion in decision making towards the development of Tamale will have a huge impact.
Honourable Sule Salifu concluded by vowing that if these leaders do not disturb or worry him for the sake of the development of the city, he will always worry them and knock on their doors to disturb their peace and good sleep for the sake of the development of Tamale. He made these comments yesterday, October 2nd, 2021, in an interview with Halik Musah on 'Dini Nye Shem' on Sagani TV. You can watch the video below.