Multiple national award winner, Fancy Gadam, has announced the release of his first ever EP as a mainstream Ghanaian star, tagged "One Don Ep".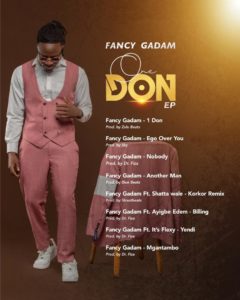 After touring across the country with his smash hit, Kom, Fancy Gadam took to his social media handles tonight to announce the release of this EP. The star expressed his happiness about this EP below.
"I am glad to announce my Studio Extended Play scheduled to come out in November. I'm just trying to enjoy myself with the music now, because of the reception from the fans for my last album. more music is on the way, but right now i am more interested in keeping my fans fed—literally. In fact, guessing the concept of his next project has become the favorite pastime of just about every Afrobeats commentator, My creativity is within my control though, and I want to take my music and my brands to a different level. it was just effortless recording with the producers on this EP! Listeners can expect an embrace of body diversity".