Broadcasting Journalist and a veteran musician, Malik Issah, popularly known as Big Malik, has introduced a new radio program tagged 'Ti Beemi Zhiya' set to be aired on Radio Tamale 91.7Mhz Working
as a versatile presenter who has handled entertainment shows and relationship Education programs for about a decade now, the well experienced host announced a few weeks ago that he would be back on radio and this time with Entertainment.
"I Will Be Back On Radio Soon,
This Time On Entertainment,
More Fire 💥💥💥"
Big Malik has today shared the beautiful cover art of the show.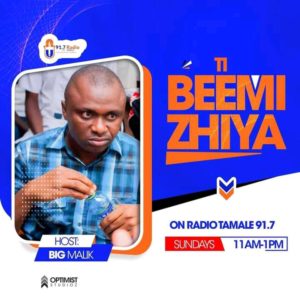 The title of the show is 'Ti Beemi Zhiya ', which according to him in a one on one chat with HYPE MEDIA GH revealed that it will be a 100% entertainment focused program on music and movies.
Big Malik disclosed the show will start this Sunday 11th July, 2021 from 11am to 1Pm.