Ghanaian rapper Sherif Abdul Majeed known widely as Maccasio has finally reacted to allegations that he used a producer's beat without his consent for his "tuma" song.

Reacting to a post by the producer (Tubhani Music) on Facebook, the "crocodile" hitmaker appealed to him to take it easy with him and rather blame Bluebeat, the producer of Tuma for giving him the beat.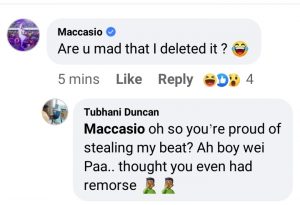 Tubhani, a Ghanaian producer, claimed rights of Macasio's Tuma beat, and has taken the issue up on social media which indeed has forced Maccasio to delete the video of the song on YouTube.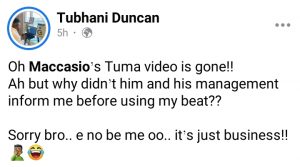 Though Bluebeat is yet to comment on the recent development, Maccasio has, however, proportionally blamed the producer for causing him to lose his song. Read a screenshot of his comment below.