The 1 Don, Fancy Gadam has hint on getting married anytime soon.
The star boy has taken to his whatsapp status to post a picture of an unknown engaged couples with the caption "Engagement".
Read from the screenshot from his status below,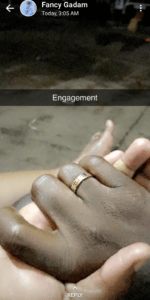 As to whether it's his engagement with his fiancee or not, he didn't make it well clear, but he went ahead to alarmed people that they should not be surprise should they hear his date any moment going.
Check out the screenshot here,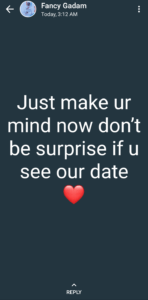 Few months ago before Ramadan, Fancy Gadam released a very deep heart touching love tune he has never released before with the title "Chein Chein", a true natural song that sound so real from a man in love.
Who knows? That might have been the love story of Fancy Gadam.
Check Out The Visuals Of The Song Below,