Mohammed Muntala De Slim Gangsta, one of Northern Ghana's finest rappers, has pulled out of the Kings Street Carnival by Ataaka, slated for the 21st of August 2021.  Ataaka put the star on the performing artists of his carnival and has shared with all his social media handles the cover art of Saani.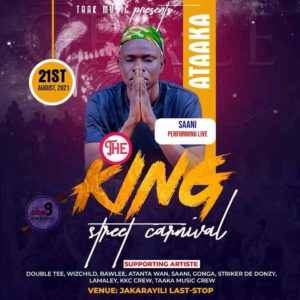 Saani disclosed to Is Hassan Dablee, CEO of HYPE MEDIA GH, that he wouldn't be available for the stages in the few weeks to come.
According to Saani, he won't be performing on any stage until the 40th day of his beloved and most closest late friend, S.K.Y Da Tamale Boy, is observed.