After exchanging harsh words on social media, Maccasio and Is Rahim have reconciled. The two stars have long been slamming each other behind each other's backs.
In their most recent fight, Maccasio referred to Is Rahim's music career as "dead." Is Rahim was not thrilled with it and labeled all of Maccasio's tracks as goofy.
Is Rahim updated a post promoting Maccasio's show at the stadium yesterday, on the 12th of August. He urged people to show up in large numbers to show their support for Maccasio.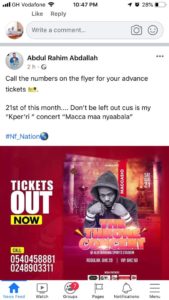 Maccasio didn't waste any time and responded to the post below with a smile.