High hopes have been set for the Upper East music award scheme after the main sponsor for the awards scheme, Happy Man Bitters has decided to embrace the scheme through a Facebook poll which lasted for 72 hours.
CEO of Happy Man Bitters, Mr Emmanuel Borkety Bortey, after the immediate previous edition of the awards scheme last year announced publicly that he was parting ways with the thriving but credible awards scheme following a series of unpleasant uprisings which unfolded after the event was held.
His withdrawal from the scheme stimulated many reactions while the future of the scheme itself was in a dwindle.
However, the future of the awards scheme has breathed a deep sigh of relief as the sponsor has revealed via a lengthy Facebook post that per a poll they organized within 72 hours, many people wished for their return to the scheme, hence, they are ready to grant their wishes by resuming the sponsorship.
The main sponsor is returning with several other developmental initiatives to insure that this year's edition ends successfully devoid of controversies and dissatisfaction from concerned persons.
On this note, a creative Seminar aims at addressing aftermath of the previous editions as well as educating artistes on how to create and sell their music has been organized and scheduled for Saturday, July 23 2022 at Tap Hotel in Bolgatanga.
Championing the event on the day is a notable Ghanaian journalist and broadcaster, Samuel Atuobi Baah known professionally as Sammy Flex.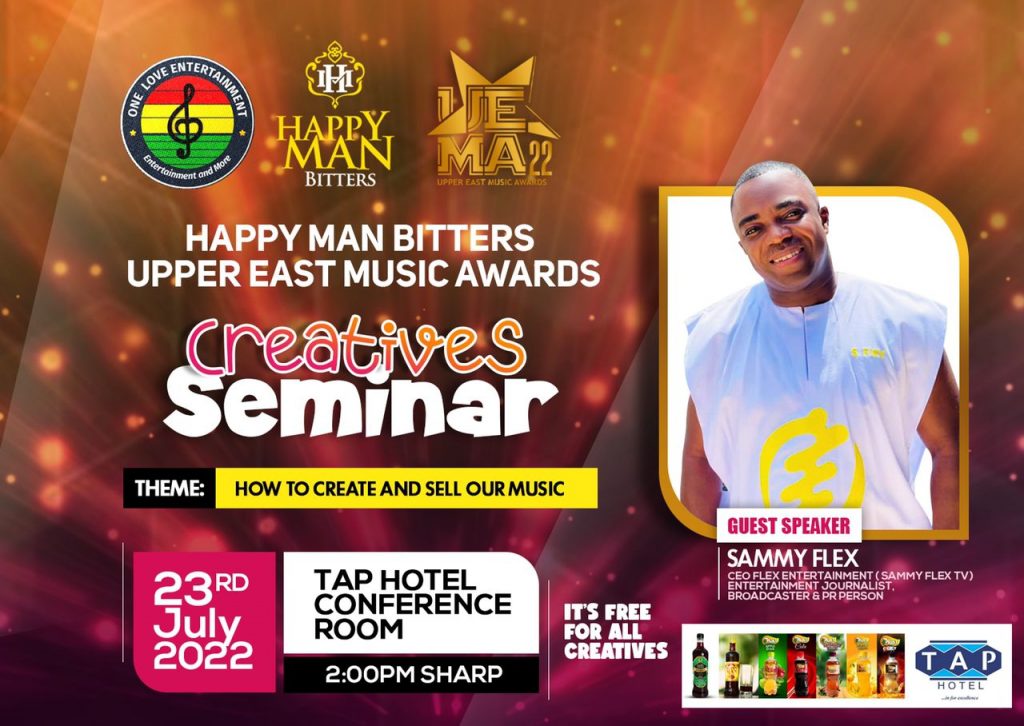 A post made by the CEO, Mr. Emmanuel reads; "Based on the poll conducted over 72 hours ago on my official Facebook page to determine if a reboot of Happy Man Bitters Upper East Music Awards (UEMA) for 2022 should happen, results and feedback thus far indicate that many persons support a reboot.

Based on this, Happy Man Bitters, as a brand, is taking steps to ensure that its official organizers make the 2022 edition of Happy Man Bitters Upper East Music Awards (UEMA) possible. However, specific steps have been put in place to ensure this year's edition is void of controversies and displeasure from concerned parties.
The Happy Man Bitters Upper East Music Awards Creative Seminar will address issues and educate artists on how to create and sell their music. Prominent and key individuals such as Sammy Flex, an Entertainment Journalist and expert from Accra, will be present to speak at this seminar. During this seminar, views and grievances on previous editions of Happy Man Bitters Upper East Music Awards will be considered to ensure a smooth sail of the reboot. Other measures meant to address grievances allows concerned individuals to send their creative suggestion on how to improve the 2022 edition of UEMA to Happy Man Bitter's Official email
address at chargerlimited11@gmail.com for due consideration and implementation.
As official sponsors of UEMA, we recognize that we play a pivotal role in ensuring transparency and satisfactory outcomes. We are therefore taking necessary measures to ensure such".