The two self acclaimed street kings, Ojah Drumz and Dagbon Saani have gone harder on each other on social media.
The brouhaha between these two have been going on for about a week now, it all started when Ojah Drumz singled out only Fadilan as the artist who stayed true to him during the video shoot of "Niti Bahla Yoli", a song Saani is featured on.
Saani jabs Ojah considering the sacrificed he made to show up on that day at the video shoot.
Ojah Drumz posted below yesterday, 1st of November,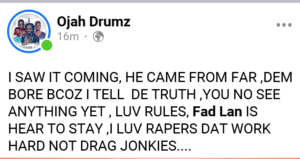 Dagbon Saani followed up with below today 2nd November,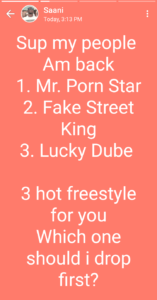 Who Do You Think Is Right Here?