Artiste and songwriter Atamina David, known in showbiz as Prof Atamina, has been nominated for the 2021 Greeter Accra Music Award slated for September 4 in Snap hall (Ama auditorium) Accra.
https://youtu.be/ub2aHtFRJtM
The Traditional African instrument player, who recently released his hit single, 'Suprises', has been nominated in the Apprise artist of the Year category.
The 'Dunia' hitmaker will face stiff competition from some of the country's finest acts for the award.
https://youtu.be/Ec718elrojU
GAMA is designed to celebrate and honour Ghanaian entertainers in and outside the country's capital, Accra, and aims to further the advancement of the Ghanaian music industry at home and abroad.
https://youtu.be/KIWOeFN3NrQ
Credited with a number of hit songs, Prof Atamina, who expressed his delight at the recognition by the awards scheme, believes he deserves the award because he has worked hard in the local music industry in the year under review.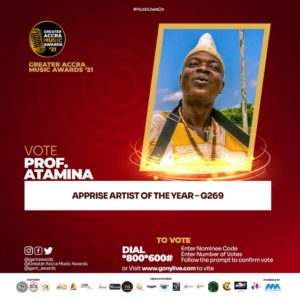 His songs have unique features in terms of beat and style, which is a new element in our current music dispensation.