The 2021 edition of the Miss Upper East Ghana beauty pageant will kick off on August 28 with a day-long ceremony.
Auditions for the Upper East's most prestigious and respected pageant will take place at the Ganass Hotel in Bolgatanga on August 28.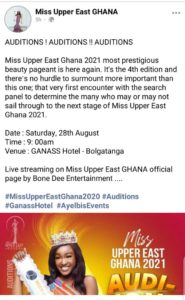 In a Facebook post today, the organizers of the event, Ayelbis Events, stated that "it's the 4th edition and there is no hurdle to surmount more important than this one", indicating it's necessary because it creates the opportunity for the panel to sail through to the main event.
https://youtu.be/OGLvJQVN-dI
Coupled with controversies, with some bloggers and industry players asking questions, the organizers believe that this year's event will be more exciting and fun, devoid of such controversies.