Sapashini teams up with the producer Flames to bring us a new song titled "1,000 LUV" (a thousand love). We must not forget so soon that in his song "BANA," he expressed gratitude towards his fans and everyone who has been instrumental in his continuing musical growth. With a brand new song, 1,000 LUV, released on Friday December 24th, 2021, Sapashini is clearly heard as he goes deeper to inform us about the reality of life and also inspire us to keep fighting against all odds, for no matter how hard we strive and how good we live our lives, there will always be people who love us and also people who will not.
The philosophy behind such groovy real-life music is undoubtedly something we have to hold on to as we dance into the new year. We should not let people who hate us for no reason drain our energy or put our minds through unnecessary stress because there are also people who love us just the way we are. We have to learn from Sapashini to take the positive out of every situation, as it will help us live better and happier.
As the song progresses, Sapashini goes on to say, "Create yourself and stop finding yourself; you are the best version of yourself." With such a deep and powerful poetic expression, I am convinced that Sapashini is one of the best inspirational and motivational musical artists in Ghana who really cares about his listeners and fanbase, The Awuuyii Nation. He constantly gives us songs with rich lyrical content, while a lot of artists are locked in the box of singing about sex and money.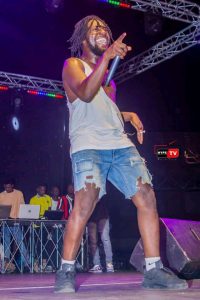 Sapashini could be considered an activist who is concerned about a better society and continues to pass his messages through sweet melodies. I am of the opinion that he is heading towards the class of Lucky Dube, Bob Marley, Burnaboy, Stonebowy, and other international artists who deliver conscious music to society.
1,000 LUV by Sapashini is a bilingual song delivered in Mampruli and English and, as such, can be understood by a wider audience beyond the shores of Ghana. Flames produced the song, and it is unquestionably the type of song that is meant to be ever fresh and inspiring, as the message contained therein is one that will undoubtedly be relevant in a thousand years.It is a song worthy of listening to from morning till night, and I urge anyone who has yet to stream the song to endeavour to do so as it is available on all digital streaming platforms like Boomplay, Apple Music, iTunes, Spotify, Deezer, Audiomack, and many more. Below is a link with various streaming options where you can listen to 1,000 LUV:
https://fanlink.to/1000luv
I also encourage anyone who has yet to follow him on social media to do so, because we have an artist in front of us who will be here for a very long time, and with his style of music and lyrical content contained in his craft, Sapashini will be a joy to every lover of good music in the coming year and decades after.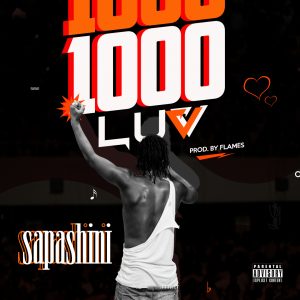 Coming from the North is Sapashini, an outstanding artist who is ready and worthy enough to take over Ghana's music space as well as become a global musical icon whose unique sound is capable of bringing home the Grammy Award to Ghana in the near future.
Membis Okorie Chukwukamma (International Music Business Personnel) wrote this.