The bunter between Mohammed Hafiz Gee Face the Trender of NTV and the Young Rich Niger, Shatta Bandle seems to have just begun after Shatta Bandle finally decided to react to Mohammed Hafiz Gee Face's comments about him.
The famous TV show host, Gee Face, described Shatta Bandle as an influencer instead of a celebrity. Shatta Bandle might have traveled across the whole world and have a huge following on his social media handles, but to Gee Face, that does not make him a celebrity until he is attached or alined to sports, music, or acting, then he can be called a celebrity.
With Shatta Bandle's popularity, these comments sparked outrage on social media, with many, including DJ Ojah, referring to Gee Face's return to school to learn what a celebrity is.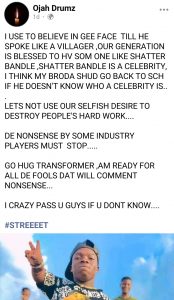 Shatta Bandle was silent on this until yesterday, December 17th, when he took to all his social media handles and delivered a message to Gee Face. Shatta Bandle also educated him on the fact that "celebrity is a God gift." Check out the post below.