A few days ago, Shatta Bandle vowed in a live radio interview with Kawastone on the Zaa Kootu program that he was way bigger than many people thought he was. To him, he is the biggest northern export than Fancy Gadam and Maccasio.
In trying to convince people to side with him, Shatta Bandle said the projection of the north has gone beyond just filling up the stadiums in your own comfort zones, something Fancy Gadam and Maccasio are used to, but how you're well recognized and billed to perform in programs outside the country and even Africa.
Shatta Bandle succeeded because Naa Kwarley, CEO of Northern Radio Awards, and Alhassan Mubarak, a politician and CEO of BigTym Entertainment, were sighted with him.
Naa Kwarley said she agreed one hundred percent with him when the article of his claim was posted in a WhatsApp group.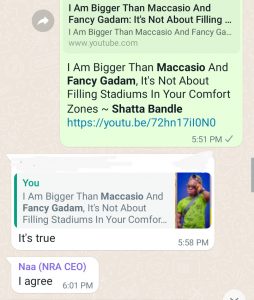 whereas Alhassan Mubarak threw his support behind Shatta Bandle when the same topic was broadcast on hypemediagh.com on all social media handles. Check the screenshot below.