Shatta Wale gets credited For USA GOLD CERTIFICATION With 'Already' Featured Song By Beyoncé by RIAA.
The Recording Industry Association of America (RIAA) is a trade organization that represents the recording industry in the United States. Its members consist of record labels and distributors that the RIAA says "create, manufacture, and/or distribute approximately 85% of all legally sold recorded music in the United States".[1] RIAA is headquartered in Washington, DC.
Another significant turning point in history struck the Shatta Movement camp in America, as Shatta Wale has received Recording Industry Association of America (RIAA) GOLD Certification, with "Already," in which Beyonce Featured him, the King Of African Dancehall.
Beyoncé plays with the Afrobeat genre in this song, "Already," with the assistance of Ghanaian reggae/dancehall / Afrobeat rave performer Shatta Wale and the electronic group Major Lazer,
From the album THE LION KING: THE GIFT in 2019, Beyoncé described the album as a 'gift to africa', the song "Already" was also included in the popular Beyoncé's subsequent music film 'Black Is King' released in 2020.
The most played song of the album on YouTube and Spotify, with over 50 million and 105 million listens, respectively, is the "Already," song which includes the African Dancehall King, Shatta Wale. The song is arguably the biggest on the album. And also the theme of the album.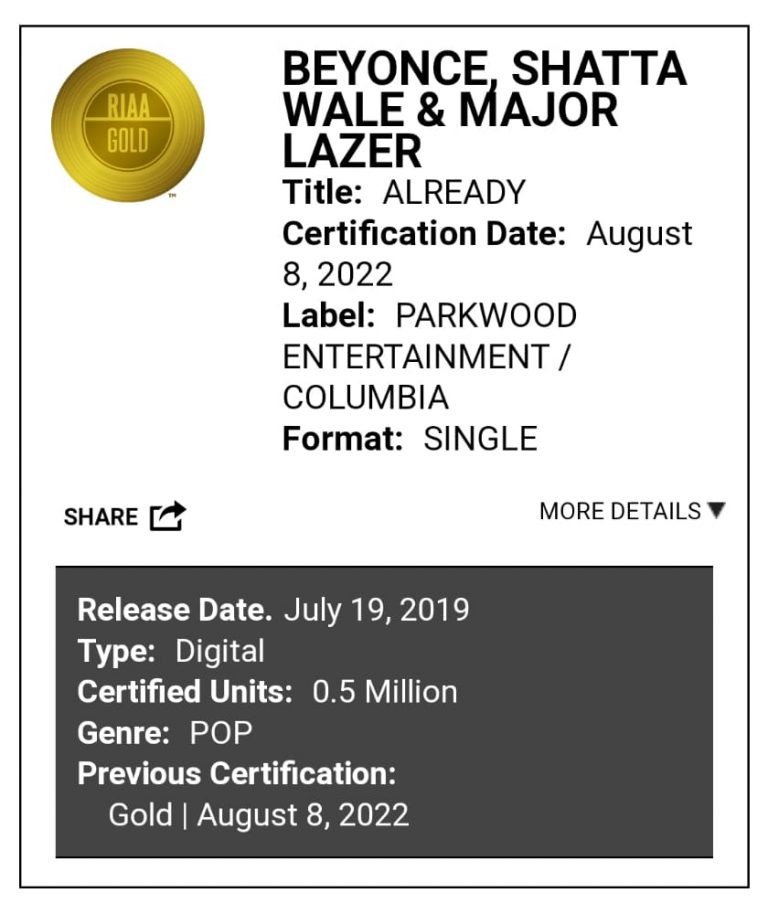 Being a part of the success of Beyoncé's The Lion King album by a Ghanaian musician—not just any artist, but the African Dancehall King, Shatta Wale—will always be remembered as one of the most significant achievements in the history and culture of Ghanaian music.
For his contribution as a featured musician on the 'Already' song has earned Shatta Wale the USA GOLD certification, making him the first Ghanaian- artiste to do so in the musical history of the country 🇬🇭
Congratulations to Shatta Wale and the whole Shatta Movement Empire on attaining the RIAA GOLD CERTIFICATION.