Ataaka Manager and Manager for Tamale based Tawasul Fm, Mr Warris has said that rapper, Sherif Abdul Majeed Maccasio is mentally unstable for saying that some of his colleague artist can't even fill a venue of 25 people in capacity if they host concerts.
Maccasio make this controversial post on his facebook wall that reads below,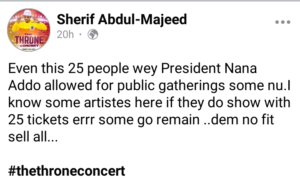 Many fans and some industry players relate this to Gaffachi who in recent times isn't very cool with Maccasio.
On a radio discussion on Radio Amana with DJ Mise on the Amana Chat Show on Saturday 6th February, 2021, Mr Warris said it's unhealthy and mental instability that will make one to think that any artist can not get more than 25 people to attend his show.
According to him, Maccasio needs to check on his mental health condition before it's too late.
Mr Warris also advice people closed to the rapper to act quick in taking him to the psychiatric hospital before he runs completely mad.
Watch Video Below,