Ghanaian afrobeats singer and performer Fancy Gadam and the organizers of his concert, One Don Concert, which is slated for February 19th at the Walewale sports stadium, are threatened with being sued for including one of the artists (Jirry Aloza) on the bill without his knowledge or confirmation.
Fancy Gadam announced the date of the concert a few weeks ago.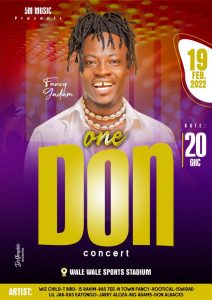 At first, it was on the same day as King Buda's concert, and Fancy and his team considered rescheduling. Now, Jirry Aloza, who is among the supporting artists on the bill, has dared the star and his organizers to take off his name before printing their posters, or else they will be sued.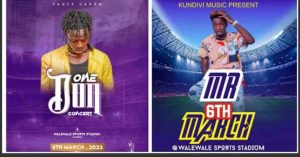 According to him, Fancy Gadam has always been using them for his own benefit without any respect or gratitude. Jirry Aloza recalled seeking Fancy Gadam's help to just wear or take a picture with his (Jirry Aloza's) customized shirt, and the star refused and gave an excuse. For this reason, and many others, Jirry Aloza took to a live video on his timeline to warn Fancy Gadam and the organizers of the show to take his name off the bill or meet him at the court. Watch the short video of Jirry Aloza below.