Rapper Don Dee, a well natured and fans favourite of Sagani Tv Competition was crowned the winner of this year edition of the competition.
It was a night to behold as the eight finalist brought their A-game to the finals, held at the Aliu Mahama Sports Stadium with limited number invited and under strict Covid-19 protocols on Saturday, February 20th.
T. I. P who has always being given his best from the start of the competition set the ball rolling with a great performance followed by the rest of the contestants for the first round which saw them perform thier own recorded songs.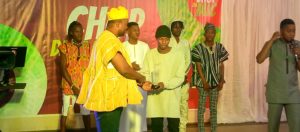 The competition continued to the second round after performance from the winner of the season two of the competition, Ratty Bangara.
The second round saw each contestant performed their own version of Covid-19, the effects and need for us to protect ourselves against it.
Whiz Gee, Klassic and Dagara were evicted, therefore couldn't make it to the final 5.
Having Fawal, T. I. P, Mezzy Numba, Don Dee and Seke Jay proceed to the final round, they each performed their own version of cultural songs to random beat chosen by them on stage from the team.
At the end of the judges coalition, Don Dee won first, T. I. P first runner up and Seke Jay the second runner up.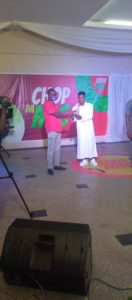 Seke Jay walks home with GHc500, 55 Inch Television & Recording deal.
T. I. P was awarded a brand new motorbike, GHc1000 and a recording deal.
Aside the car, Don Dee also gets GHc2000 with recording deals, video shoots and airplay on Sagani Tv plus a year promotion on hypemediagh.com