After several weeks of thrilling and exciting performances from over 90 contestants of Sagani Tv Chop Da Mic reality show, 8 make it to the finale of the great competition.
Don Dee, Seke Jay, Fawal, Mezzy Numba, TIP, Klassic, Dagara and Whizz Gee made it to the finales after exhibiting a competition winning performances and getting the highest votes as well.
However, Destiny B, DM Mutif, Rap Skinny, and Rekordz were evicted on today's last day of eviction of the competition.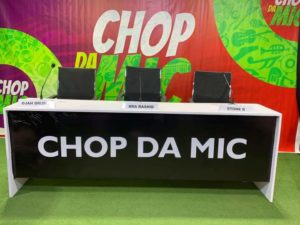 Before a day of the grand finale will be announced, the 8 finalist will tour around some of the beautiful tourist sites in the country to have fun, refresh themselves and make more time to prepare themselves for the ultimate honours on the final day.
As usual, a quality audio and million dollar classic video will be produced and shot for an all final contestants song, which will be promoted till the next year. Don't forget the winner walks home with a brand new car, numerous recording deal, airtime for promotions and an official 1 year promo partnership deal with HYPE MEDIA GH.
Who Do You Think Will Wear The Crown?