Organizers of one of the biggest reality show in the country, Chop Da Mic have on Sunday announced the finalists from the 2020/2021 grand finale.
The program in its 3rd edition, is designed to unearth and reward talents in the Ghanaian music industry.
The 8 finalists from various regions and corridors in Ghana, who emerged from a competitive pool of over 90 contestants will go straight to the finals to compete for the ultimate price and bragging rights.
The finalists are;
Don Dee, Seke Jay, TIP, Mezzy Numba, Fawal, Whizz Gee, Dagara and Klassic.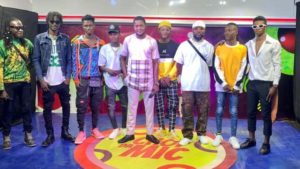 The finalists will be taken around some of the tourist sites in the country before hitting the studio up for a quality and a classic video of a finalists group song which will be promoted till next year at this stage of the competition, sponsored by the organizers.
Don't forget this year's winner walks home with a brand new car, 1 year airtime for promotion, recording deals and a contract of 1 year promotional deal with HYPE MEDIA GH.