Is Rahim, one of the finest vocalists in the North and manager of star Fancy Gadam (Hassan Al Hussein), has mocked rapper Maccasio over his "artificial Bomb car engine".  Maccasio, who currently owns a Hyundai Elantra, has been heavily criticized for rumours that his car has an engine problem.
Though the rapper has responded to a handful of critics, particularly those from the Gadam Nation frontiers, he is yet to deny or confirm the rumours.
Yesterday, on the 1st of August, Maccasio was photographed with Ibrahim Mahama, the younger brother of the former president of the republic, John Dramani Mahama.
IsRahim and Hassan Al Hussein came to the same conclusion in their mockery write ups that the rapper was seen with him because he wanted to beg for money to fix his car engine. Below is IsRahim's post.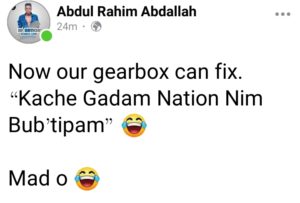 "Very credible Information reaching us suggests that your favorite rapper has finally conceded defeat . He has visited a brother to a former president of the republic and he was given enough water 💦 💰 💵 to drink .. 🤣🤣🤣 The source of this credible information further suggests that, the said rapper has placed a call through Kumasi Industrial Area to order for a gear box for a particular car 🚗 🤣🤣.. This information also has it that another rapper along the Kukuo road has gone to see this same politician to drink water so He can also get some good sneakers 👟 🤣🤣🤣. I am reporting from Fancy Gadam's new residence, Tamale Ghana 🇬🇭…"    Hassan Al Hussein wrote.