Halik Musah has sound a warning to Bitter Flesh of Kaya in his recent facebook comment under Bitter Flesh post.
Two days ago, Halik Musah made a post on facebook regarding how he unfortunately had his room appliances burnt through vra power outages. Out of frustration, he cursed the government for his bad governance that has made him loosed those gadgets.
It didn't go down well with one Mr Nyass Ghazale Mahanadu who went hard on Halik Musah with insults.
Bitter Flesh of Kaya tapped into the issue and made a post that seems to be teasing the victims (Halik Musah & Ghazale).
Read post below,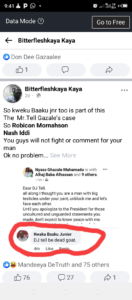 Mr Tell got angry and tagged Bitter Flesh post as an attention seeking post and suggest to him to go and look for job and leave what he's doing.
He also warned that Bitter Flesh should make it his last time he tagged him on facebook else he will block him off.
Read his reply under Bitter Flesh post below,