Rapper Don Dee, a great talented star from Taaka Music who was recently crowned champion at the Sagani Tv Chop Da Mic reality show has fired back at critics for saying his win was nothing but a plan work of the organizers of the competition.
Few have alleged that Don Dee was adjudged winner even before the finals of the competition.
A recent of those allegations is coming from Fawal, a finalist of the competition, who vowed to sue the organizers for cheating on him with Don Dee.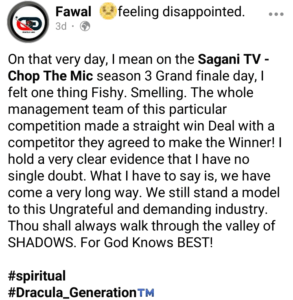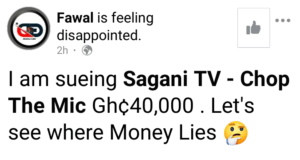 Don Dee has fired back that his win has absolutely nothing to do with the organizers nor the owners of the TV station.
According to him, he applied formulas of how to run or rap smoothly on a random drip beats and that formulars gave him the upper hand over his competitors on that night.
He added that only a musician who refused to learn will go by spreading false accusations on organisers.
Read from his post below,