DJ Bat has took to his social media handle to condemned Maccasio latest released track "Sherifa".
The rappers jack released Sherifa, a cover of Highway with a studio viral video of which many especially his fans are jamming and hipping praises to.
But DJ Bat view about the song is different as he condemned it on his facebook wall @Amidu Abdu Rahim.
According to DJ Bat, the song is a direct copy of Amapiano beat and that it's a total wrong direction for the rapper to have thought of going.
He direct fans and music lovers to go and listen to all songs from Amapiano, including "highway" which he believes Maccasio copied for the difference he's referring them to.
Read DJ Bat Post Below,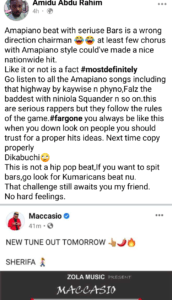 Meanwhile, DJ Bat went ahead to declare his stand now and forever, saying that he will rather loose or let another person win this time since it's a win loose situation.
"Most definitely
We don't care anymore
Since is a win loose situation
I will rather loose to let you win .
No hard feelings since speaking your mind to somebody to correct him is evil
We will continue been the haters forever because we won't stop been ourselves in speaking our minds😂😂😂"