Afa Staff, a renowned media personality from the north, has questioned Gonga's criteria he used in the selection of his untouchable top 4 rappers from the north.
Yesterday, June 20th, Gonga took to his Facebook page to list his recent untouchable top 4 rappers from the north based on good lyrics and heavy punches, and added that any rapper who does not see his name on the list needs to sit up. Gonga list comprised of 1. Ataaka 2. Dobble Tee 3. Don Dee 4. Fad Lan.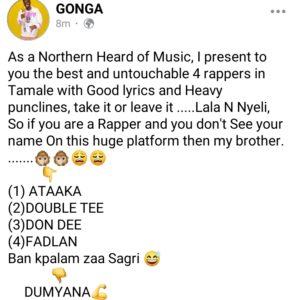 Many industry players, including DJ Zolah shared this, and in the comments section, Afa Staff stated that it would be impossible for anyone, regardless of  whatever criteria, to come up with a list of well-performing rappers in the north without Maccasio, unless, of course, the person has a problem with the rapper.
Please see his post below.