Ghanian most decorated darling rapper, Maccasio has celebrated Ghana's Victory over counterparts, South Korea with a fresh visuals to his most vibed song, Jackson Flow.
The Blackstars of Ghana took on the South-Korean National Team mid-afternoon on Monday as their second group match in an encounter that was said to determine their faith in the Qatar 2022 World Cup.
Ahead of the tough encounter, Maccasio took to his social media handles to make a promise to Ghanaians that, should the Blackstars defeat South-Korea, he is going to released the video of Jackson Flow for fans and music lovers to party and celebrate with.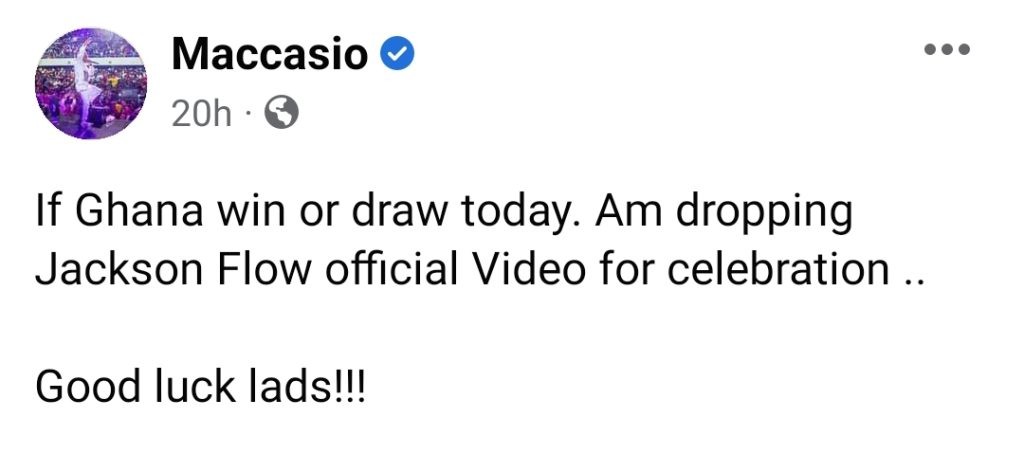 Five hours after Abdul-Kudus second goal sealed a 3:2 win for the Blackstars and kept their hopes of proceeding to the next stage of the World Cup alive, Maccasio fulfilled his promised and unleashed the visuals of Jackson Flow on his official YouTube channel.
Jackson Flow is a song out of his latest album, Glory. The video of Jackson Flow was shot and directed by Northern-Based sensational music videos director, Director Anas at A-Square Multimedia. Watch the video below.