Double Boy Kenzy, a rapper from Northern Ghana, has said that his colleagues, Northern-based stars, Fancy Gadam and Maccasio, have reached their peak already, which is why they have both come down from the southern part to be based in Tamale again.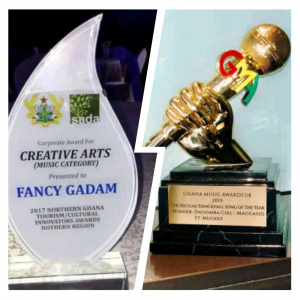 For over 5 years, Fancy Gadam and Maccasio have enjoyed the limelight of being the only two Northern-based artists to consistently stay on top of their game. For this reason, the two have gained some national recognition and at one point in time were rocking shoulders with Sarkodie, Shatta Wale, Stonebwoy, etc in some of Ghana's top schemes until recently when they lost all those gigs.
In a short TikTok video advising colleagues to concentrate on their careers rather than wasting their beef with Fancy Gadam and Maccasio, Double Boy Kenzy said that these two artists have grown to their limit and that is the main reason they have started dropping downwards. Watch his video below.