Mohammed Abdul-Rashid Kawastone, one of the experienced media practitioners from the North, has officially joined Zaa TV and he is set to host Zaa Kootu, his very own program on the station's radio station, Zaa Radio.

Kawastone has worked as a radio presenter for over a decade now and has had three years of TV experience, having been part of the few that joined Sagani TV the very first time it was established, until two months ago when he presented his resignation to Sagani TV.
 
The presenter had been silent about his TV journey for months until yesterday, when he took to all of his social media handles to share the good news with his fans.
Zaa Kootu has been one of the flagship programs on radio, and now, Kawastone has decided to put it on TV per public demand. The program is set to be aired every Wednesday from 9pm to 10pm on Zaa TV.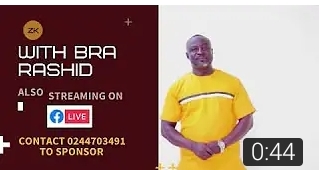 Zaa Kootu is a program aimed at promoting justice and fairness for everyone. In the program advert, Kawastone said that a lot have believed in the lies and falsehood rumours they've heard about their friends, family, or even parents because the victims (friends, family, or even parents) didn't get an opportunity to say their own side of the rumours people spread about them. Therefore, Zaa Kootu is coming to give an equal opportunity to these people (politicians, chiefs, Imams, musicians, actors, and fans) who have ever been in this situation to clear the air.